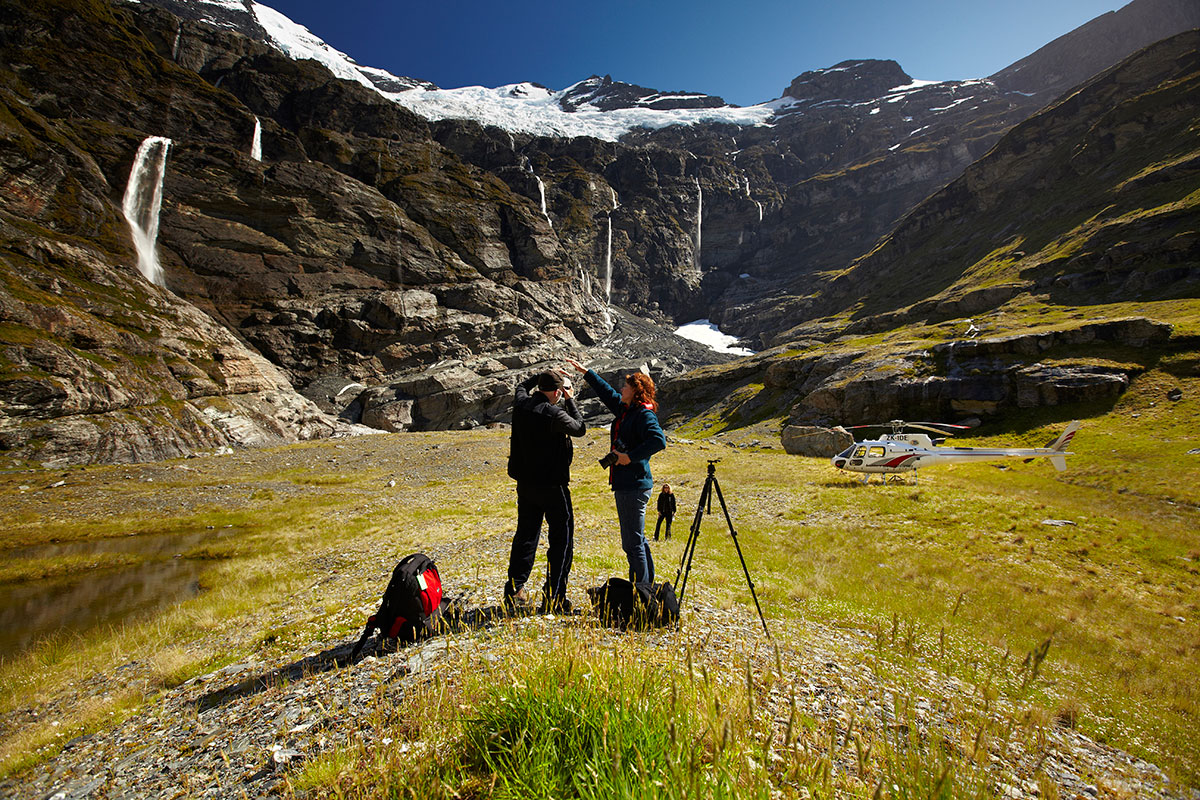 Customised Tours and One on One Tuition
Queenstown-New Zealand Photography experiences
8 hour Safari Charter Adventure. $1830.00. By multi Award winning Photographers Mike Langford or Jackie Ranken.
Groups of one to a maximum of four people.
Choose the setting for your private landscape photography workshop: the raw and unspoiled landscapes of the Nevis Valley or choose the wide open vistas, ancient forests and lichen/moss covered trees of the Paradise/Routeburn/Rees Valleys or sensational Skippers Canyon.
The day is spent photographing in places suited to the weather conditions, allowing everyone time and circumstance to express their own vision.
Perhaps you would like to start the day at sunrise, or photograph the night sky, everything is possible. Just let Mike and Jackie know what you would like to learn and let them take care of you.
At the completion of your Photo Safari if you would like to print some of your images onto fine art paper and have them ready to frame, then book in for an editing and printing session with Jackie Ranken.
Times vary with the season:
2016 Summer (27 September - 3 April) - 11.00 am - 7.00 pm

2016 Winter (4 April - 30 September) - 9.00 am - 5.00 pm
Jackie and Mike have EOS 750D, 7DMKII, 70D, 80D cameras available for use as well as extra lenses (10-22mm wide angle, 60mm/100m macro or 70-200mm telephoto lens), tripods and filters.
OR
5 hour Safari Charter Adventure. $1140.00. By multi Award winning Photographers Mike Langford or Jackie Ranken.
Groups of one to a maximum of four people. Extra info, as above.
Two-HOurs One on one Photography Tuition. $130.00 per hour
BY MULTI AWARD WINNING Fine art PHOTOGRAPHER JACKIE RANKEN
Jackie Ranken has been a photographer for over 30 years. Jackie has experience in many areas of photography from photojournalism to weddings to commercial and sports photography. "What's important is that I love my work and in more recent years that includes teaching photography. I have an empathy to help emerging, enthusiast and professional photographers to not only make better images but to and learn how to think about the image making process and developing your own style".
BY MULTI AWARD WINNING Travel/Landscape/commercial PHOTOGRAPHER Mike Langford
Mike Langford has been a commercial corporate industrial photographer since 1981. He has a huge amount of knowledge to share in this area as well as his current passion for landscape and travel photography.
These sessions can be held in our home/studio in Queenstown 7B Manchester Place or out 'in the field'.
Contact Jackie or Mike to let them know what you would like to learn and they will let you know what they would like you to bring to the session.
If you would like to trial more specialty lenses and cameras during in these one to one sessions then please let Mike or Jackie know. They can take you through their personal camera kits and show you how and why they use each piece of equipment: This includes; Canon 50mm f1.2, 85mm f1.2, 24mm Tilt Shift Lenses, Canon 5DMKIII, 6D, 7DMKII, 5Ds and more.
What you'll Need
hat, walking shoes and clothes that suit the weather

water bottle

sun screen

insect repellent